Why Titan Truss Trailers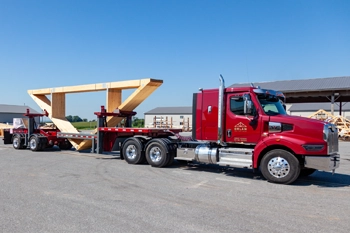 Our goal was to create a truss trailer like never seen before. Our trailer is designed to haul trusses upside down and unload to the side with an arm that is hydraulically controlled and operated by a single operator.
Our trailer is a standard 102" wide trailer that hauls up to 60 trusses at a time. Our trailer is equipped to extend to different lengths so that you can adjust to the needs of every job.
Our trailer can haul a variety of trusses ranging from 24' to 65' with variable size pitches. The steerable axle allows the operator to steer the back end of the trailer to get into tight jobsites or hard to get to areas.
No Oversized Loads
Steerable Axle
Controlled Safe Unloading
Less Wear and Tear on Equipment
Extendable for Versatility
Eliminates Damage to Jobsite and Payload