History
Titan Truss Trailers, it all started with an idea, a dream and determination. Linford started a business hauling trusses in 2000, he hauled trusses for a building truss manufacturer in New Holland, PA. For many years Linford kept asking himself, how can we haul trusses upside down, in order to avoid headaches and lower costs. There had to be a way to achieve this goal using modern technology.
Linford's nephew Josh was raised around trucks and equipment and taught a good strong work ethic that he used to take shop classes and go to CTC where he learned the basics of machining. Then he went to Thaddeus Stevens College of Technologies where he continued his Learning in the trade of machining. All the while he was working in a machine shop gaining real world applications. After graduating Stevens he started working for an automation company where he was involved in each step of the building process of the automated equipment.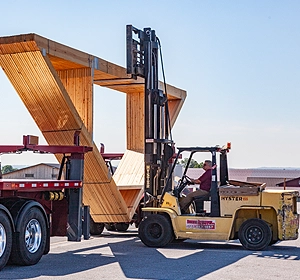 One day Josh overheard his Dad and uncle Linford talking about the issues with hauling trusses. Two weeks later Josh showed Linford a trailer design with the trusses loaded upside down after talking it over a couple hours, Josh went back to the drawing board. He was back in 2 weeks with a 90% improved design. By October 2021 Linford and Josh had the first prototype finished.
Interested in revolutionizing the way your business hauls building trusses? Titan Truss Trailers is here to provide you with innovative trailers that will dramatically cut costs, increase efficiency, and allow you to access tight spaces, reduce downtime, and all this while being very user friendly. Contact us today to learn more!