FAQs
If you're thinking about investing in a Titan Truss Trailer for your business, but you have questions about our trailers, we invite you to explore our Frequently Asked Questions below!
If you can't find your answer here, then our team is standing by to discuss your questions via phone and provide the information you're looking for. We're sure that our trailers will help you save time, minimize logistical headaches and save money, and we can't wait to help your business gain the Titan advantage! Read on to explore our FAQ's, and contact us today to learn more. We look forward to hearing from you.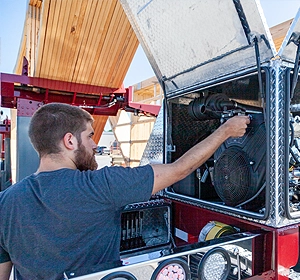 How Many Trusses Can Your Trailer Hold?
Our trailer holds 30 trusses on either side of the trailer. This comes to a total of 60 trusses per load.
The Largest Truss that the trailer can accommodate is a 65 foot truss depending on the shape and pitch
of the truss.
Will The Titan Trailer Work With Any Standard Commercial Cab?
Our trailer will work with any commercial cab truck.
Can You Customize A Trailer For My Business?
Limited options will be considered at this time.
How Heavy Are Your Trailers?
19500 lbs.
Do Your Trailers Require Oversize Load Protocols?
You will potentially have to get permits for over length depending on the length of trusses you are
hauling or state law restrictions on length.
Can A Single Operator Load and Unload the Trailer?
Yes, our trailer is able to be loaded and unloaded with a single operator.
How Can My Business Save Time And Eliminate Logistical Headaches?
In most cases it minimizes permits and escorts depending on state laws.
Minimize time restrictions on travel. You don't have to get a specific route from the state and you can get to the jobsite sooner in some cases. In most cases it will minimize the Headaches of ordering permits and scheduling escorts. Majorly reduces stress on driver hauling what would be an over width load down the road!!!! Minimize insurance liabilities when hauling trusses.
Invest in a Titan Truss Trailer! Contact us today to learn more and request pricing. We look forward to hearing from you!